BENEFITS OF USING COIR MAT ROLL – COCO HITECH VIETNAM
22/06/2022 - SHC Techmicom - 0 Comment
Coconut coir mat is a made of 100% natural coconut fiber and can be used everywhere, every country due to its nature and convinience. Coir mat roll or coconut coir mat  become more popular  thanks to its great benefits. Today, COCO HITECH will introduce some outstanding benefits of using coir mat
1. Durability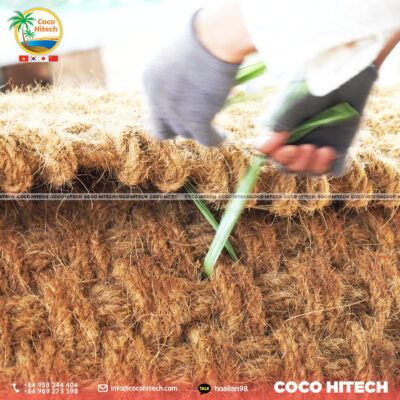 The robust, resistant nature of coir matting make it be ideal entrance for high traffic areas. Coir matting can last for 3- 5 year in outdoor uses.
2. Biogradable – Save enviroment
Coir mat is an entirely natural product which is made of natural coconut fiber so that using coir mat is to save enviroment.
3. Competitive price
Coir mat is rather is competitively price to invest. At COCO HITECH, we always try to offer best price
4. Anti dirt, dust and slip
Coir matting is strong enough to scrape dirt and mud off shoes as well as removing water. This can help to avoid a slip hazard as well as limiting mess caused by dirty and wet shoes. Coir mats can then be cleaned when dry with a vacuum cleaner or simply shaking the dirt off outside.
COCO HITECH COIR MAT MANUFACTURING
Coir mat roll are made by 100% natural coconut fiber and weave by our skillful worker. Morover each coir mat is under strictly quality controll (QC & QA). We delivered thousand of coir mat roll everymonth so our coir mat price is always the most competitive in Vietnam.
If you want to buy coir products at high quality with competitive price. Kindly contact our dedicated sales team.
SHC GROUP
Factory: Mam Xoi Mountain, Thanh Son Commune, Kim Bang District, Ha Nam Province, VN
Hotline: +84 585 678 996
Email: export3@shcgroup.vn
Skype: export3.shcgroup@gmail.com